GRAM SUPERIOR PLUS K 72 CCG L2 462 Lt PROFESSIONAL MAINTENANCE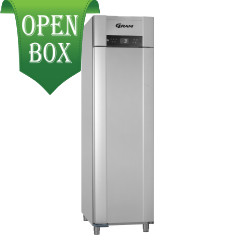 The GRAM SUPERIOR PLUS K 72 CCG L2 4S is a Refrigerator with a net internal volume of 462 Ltr.
GRAM Superior is a series of high-performance cabinets, meeting the sophisticated expectations of our customers who operate in both casual and fine dining kitchen environments. Stable and uniform temperatures throughout the cabinet are provided at all times. Despite the heat of a commercial kitchen, SUPERIOR cabinets increase your good's shelf life, while keeping your energy stats on a revolutionary low. All SUPERIOR cabinets are equipped with a characteristic transparent top panel of impact-resistant material.
Model name
SUPERIOR PLUS K 72 CCG L2 4S
Item number 960720011
Product title
Refrigerator
Brand
Gram
Temperature range
+2/+12°C
Volume, gross (l)
610
Net usable volume (l)
462
Interior
Stainless
Dimensions W x D x H (mm)
720 x 905 x 2125
Weight, packed (kg)
136
Refrigerant
R600a
GWP
3
Connection
230V, 50 Hz
Connection load (Watt)
181
Energy consumption Ecodesign AEC (kWh)
285
Energy Efficiency Class
A
Sound level – dB(A)
39.4
Insulation (mm)
80 mm (cyclopentane)
Refrigeration capacity at -10°C (Watt)
377
GN – Shelf size
2/1 GN deep
Door Type
Solid Door
Legs / Castors
H = 135/200 mm (L2)
Exterior
Stainless
---
Brand: GRAM
Product Code:28097
Availability:In Stock
---
Tags: GRAM
Categories of products (Badge)
Product Badge

Information about the category of product




Category A

Absolutely new products in their sealed packaging.


Category B

+

New products with open packaging.





Category B

New, open or unpackaged products that may have a slight impact, scratch or ding that occurred during shipment.