Korting HE 6241C Ceramic Hob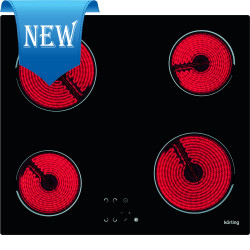 Description
Built-in stove HE 6241C from the manufacturer Korting, with 4 cooking zones. It is a ceramic with a smooth glass surface, which when heated changes to red. It heats up very quickly and evenly thanks to the heating resistors located below its surface. It is also easier to clean, compared to classic enameled stoves. Its operation is autonomous, ie it can operate on its own without the need for connection to an oven. This means that it can be placed anywhere in the kitchen that suits you best. It is suitable for combination with a counter top oven, since the oven can be placed anywhere, regardless of the hob.
The operation for the selection of the desired temperatures and settings is done digitally and by touch. All options are located at the bottom of the hob and are integrated into the surface. Therefore, all you need to do to start cooking are a few gentle touches with your finger.
Features & Dimensions
Number of Centers: 4
Type: Ceramics
Height: 5.5cm
Width: 59cm
Depth: 52cm
Characteristics
Generally
TypeCeramics
AutonomousYes
Number of Homes4
Touch Switches
InoxNo
DominoOther
HoodNo
SmartNo
Device Dimensions
Height 5.5 cm
Width 59 cm
Depth 52 cm
---
Brand: KORTING
Product Code:27589
Availability:In Stock
---
Tags: Korting
Categories of products (Badge)
Product Badge

Information about the category of product




Category A

Absolutely new products in their sealed packaging.


Category B

+

New products with open packaging.





Category B

New, open or unpackaged products that may have a slight impact, scratch or ding that occurred during shipment.