Telemax ZOS-136, Kettle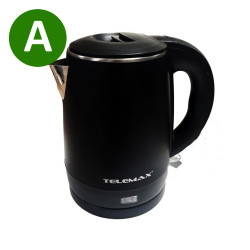 The Telemax kettle is stainless steel inside with a capacity of 1 liter. Durable, stable, easy to use and clean. It has a plastic lining outside to maintain the temperature inside.
Color: stainless steel
Capacity: 1 liter
Power: 1000W-1300W
Operation light
220-240V 50 / 60Hz.
---
Brand: TELEMAX
Product Code: 20616
Availability: In Stock
---
Tags: Telemax
Categories of products (Badge)
Product Badge

Information about the category of product




Category A

Absolutely new products in their sealed packaging.


Category B

+

New products with open packaging.





Category B

New, open or unpackaged products that may have a slight impact, scratch or ding that occurred during shipment.