HOOVER FJ120RW2 Stick vacuum cleaner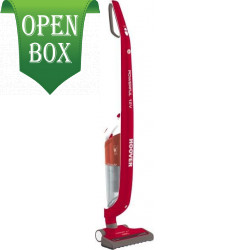 Easy-to-use 2-in-1 rechargeable vacuum cleaner and vacuum cleaner from Hoover that cleans the house quickly and easily. Its great autonomy will free your hands while its bucket does not contain a bag and is easy to wash. The package also includes a telescopic nozzle for dust suction from corners and hard to reach places. Cleaning the house is now a toy!
Characteristics:
Cyclonic separation system with bucket.
Filtration system with washable filter.
Special sole for floors and carpets.
Detachable bucket for easy emptying.
Easy to transport.
Wireless for greater ease of movement.
Rubber wheels, ideal for all types of floor.
Power: 12 V.
Batteries: Rechargeable NiMh batteries.
Autonomy: About 20 minutes.
Bucket capacity: 0.7 liters.
Dimensions: 104.8 x 19.65 x 25 cm.
Weight: 3.5 kg.
---
Brand: HOOVER
Product Code: 00579
Availability: In Stock
---
Categories of products (Badge)
Product Badge

Information about the category of product




Category A

Absolutely new products in their sealed packaging.


Category B

+

New products with open packaging.





Category B

New, open or unpackaged products that may have a slight impact, scratch or ding that occurred during shipment.